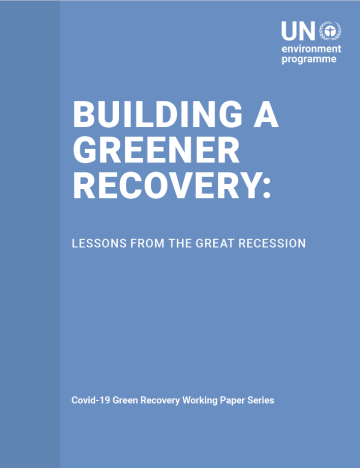 This report presents the impact of the global public
health
and economic crisis created by the
pandemic
 and the growing financial burden on governments. The lack of adequate international support and coordination for ensuring progress towards the 17 Sustainable Development Goals (SDGs) has exposed the vulnerability of developing countries to the pandemic.
To assist development of affordable and workable policies to usher in a more sustainable and low-carbon world economy, the report focuses on:
What worked and what did not from previous efforts by the G20 to green the economic recovery from the 2008-2009 Great Recession.
More recent economic conditions and trends that must also be considered in devising a post-COVID-19 green recovery.
The report also reviews efforts to introduce green stimulus and recovery efforts during the Great Recession, as well as key trends since then. It then discusses their implications for constructing a postpandemic green recovery strategy for both G20 and low and middle-income countries today, and how such a strategy can lead to inclusive green growth.
Listen to a podcast by the author, Ed Barbier, about what the Biden Administration means for US climate policy, global climate action, and financial markets