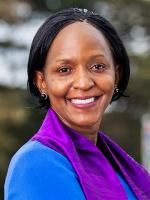 Joyce Msuya
Deputy Executive Director
United Nations Environment Programme (UNEP)
Joyce Msuya is the Deputy Executive Director of United Nations Environment Programme (UNEP). She was appointed by UN Secretary-General António Guterres in August 2018.
Between November 2018 and June 2019, Ms. Msuya served as Acting Executive Director, overseeing UNEP's portfolio in 33 countries and administering nine Multilateral Environmental Agreements on critical environment issues.
Ms. Msuya has more than 20 years of extensive experience in international development strategy, operations, knowledge management and partnerships, across Africa, Asia and Latin America.
Prior to joining UNEP, Ms. Msuya served as Adviser to the World Bank's Vice President, East Asia and Pacific Region in Washington, D.C.
From 2014 to 2017, Ms. Msuya served as the inaugural World Bank Special Representative and Head of the World Bank Group Office in the Republic of Korea, where she established and developed office operations and deepened the Bank's partnership with the country.
She has held a series of high-level positions at the World Bank Group, including the World Bank Institute's East Asia and Pacific Regional Coordinator in China, Principal Strategy Officer at the International Finance Corporation (Manufacturing, Agribusiness and Services) and Special Adviser to Lord Nicholas Stern, World Bank Senior Vice President and Chief Economist. Ms. Msuya has worked across the public and private sectors within the World Bank Group.  
A microbiologist from Tanzania, Ms. Msuya began her career at the World Bank as a public health specialist for Africa in 1998.
Ms. Msuya holds a Master of Science in Microbiology and Immunology from the University of Ottawa, Canada, and a Bachelor of Science in Biochemistry and Immunology from the University of Strathclyde, Scotland. She has an Executive General Management Certificate from Harvard Business School (USA) and a Public Health Certificate from Johns Hopkins University (USA).
Ms. Msuya was named University of Strathclyde's Alumna of the Year for 2019.  
She is married with two children.